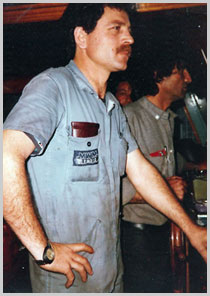 Our Company
V.K. Hatzopoulos is a company which has been established in the manufacturing world since 1989. The central office of the company is at Kyzikou 9 in Keratsini.

1969 - 1974: Training and practice at the MWM factory in Germany

1974 - 1989: Working at the Greek dealers of Deutsch MWM in Piraeus
It's activity : Repair of all kinds marine engines with genuine parts and trading of new and second-hand spare parts. The animate work force of the company is renewed since the torch has passed to the successors of the establishers who still stand by and support with their knowledge and experience the demands of the company confirming this way the name of the firm. Having its history, its anthropocentric tradition and its principles as a framework, our company keeps up with the challenges of our era with creativity, flexibility and boldness. It also moves towards technological advances and activities which makes its presence and fame remarkable all over Greece. Years of experience, discipline, effort and dreams that come true through firm steps, of goals that are redefined and renewed but always with a guiding principle: the seriousness towards the services that are offered to our clients.
Contact Us:
9 Kizikou Str. - Keratsini
Phone: +30.210.4313363
FAX: +30.210.4325863
Mobile: 0030.6944506784 | 0030.6947099832
e-mail: info@chatzopoulos-spareparts.gr